Greyhound is leaving British Columbia, and here's what we can do about it
March 27, 2018 – Vancouver, BC
Greyhound has been approved by the BC transportation board to withdraw some of their services from Northern BC and Vancouver Island, and reduce frequency on the Sea-to-Sky corridor and in the Okanagan.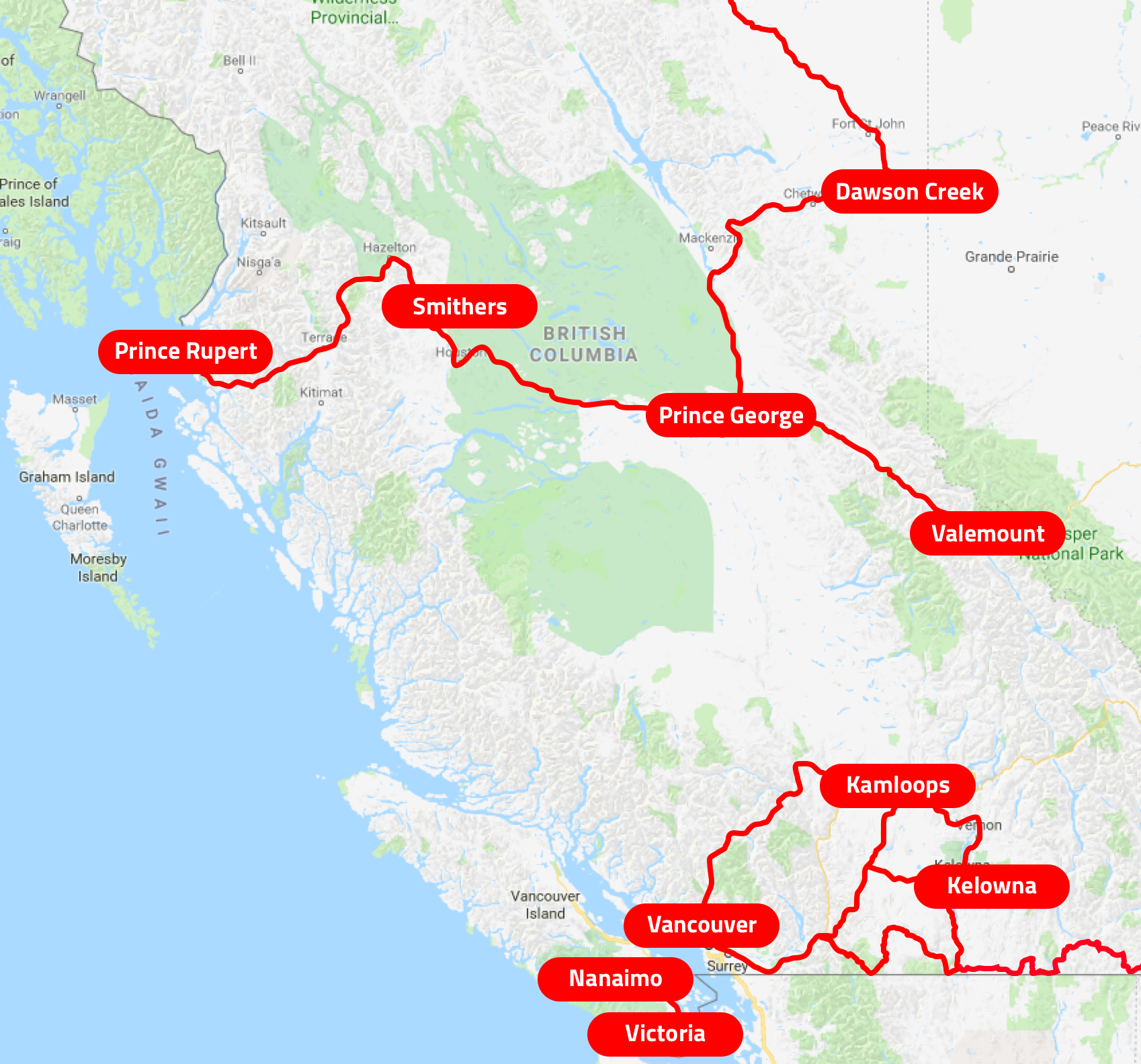 ---
Several mayors and municipalities have appealed to the province for financial support for their transit needs. The challenge—and the very reason why Greyhound is withdrawing—is how to operate a regular service on routes with low demand without losing money.
In an ideal world, organized transit is provided by the government. People need to travel and having reliable, regular transportation between cities is indispensable for regional communities to thrive.
In reality, running transit on corridors with insufficient demand inevitably requires subsidies, an approach which has proven to be financially unsustainable due to budget and political constraints.
The source of the problem is the cost of running services on routes with low demand; a provider such as Greyhound must finance vehicles, insure and maintain them, hire drivers, provide a booking system, set up offices and pickup locations, and somehow turn a profit. This is before taking into account customer service, operational overhead and compliance.
In a statement, Greyhound Canada senior vice-president Stuart Kendrick said he regrets reducing service in the province, but said it is impossible for the company to turn a profit as is.

In previous interviews with CBC, he said declining ridership in northern B.C. is due to ride-sharing services and new B.C. Transit routes that are subsidized competition.
Instead of adding costly transportation services that run at a loss on these routes, we could take a different approach. What if we made use of the vehicles already on the road to reduce costs and the need for more infrastructure? What if we could convince drivers with extra seats to fill them with people headed in the same direction? What if we could crowdsource transportation and make it safe, reliable and financially viable for everyone involved?
These 'what-ifs' are becoming a reality with Poparide. Over the last four years, we have been building an online platform for drivers to be matched with people headed in the same direction and share the costs of their journey.
Why we do what we do.
100% authentic footage with Squamish.com True Calling Canada Modo OGO Car Share Co-op Simon Reggiani Eric Carpentier Francois Fontaine Flo Devellennes Bc Helicopters

Posted by Poparide on Tuesday, August 15, 2017
Over 80,000 people have joined Poparide and shared 5,000,000 km since we launched in BC in late 2014.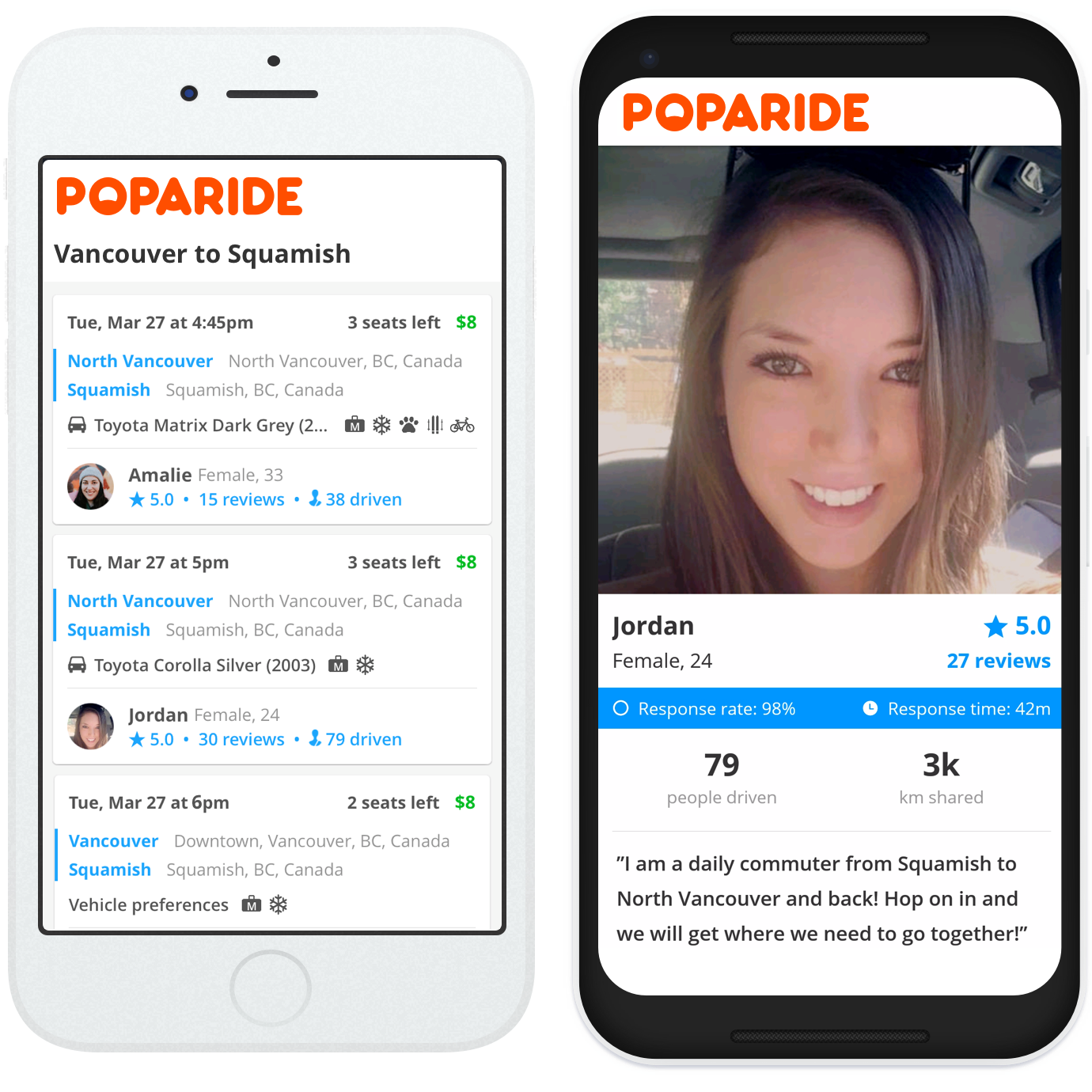 Poparide popular routes in Canada

So how does it work?
Think Airbnb, but for sharing rides. Members are verified, have an online profile with reviews and ratings, and transactions are securely processed online to ensure a reliable and tracked service.
And the best part is, the service is legal and operates under the carpooling section of the BC Passenger Transportation Act Section 1(2).
---
There are several benefits to this approach to intercity transportation:

It doesn't require any additional infrastructure
Since we fill seats in vehicles that are already on the road, no additional infrastructure is required. By using technology, we are able to match drivers and passengers on trips and provide tools to facilitate pick-up and drop-off locations (usually at transit stations or the local Tim Horton's). All we need is to get enough people using it to make it work.


It reduces driving costs
Drivers who use Poparide collect money from their passengers to help cover their driving costs considerably. In some areas, regular drivers on Poparide collect $500 – $1,000 a month, which allows them to offset most of their vehicle expenses, including gas, insurance and maintenance.


It builds community
By having people travel together, we help build community and create new social connections. We've seen many people find jobs, housing and new friends using the service. We are able to create new opportunities and perspectives for people by simply having them meet on a trip.

It reduces the need for unsafe hitchhiking
Providing a system that has verified members, trackable trips with online transactions and a reputation system reduces people's reliance on hitchhiking. Our support team ensures the quality of the service by curating trips, members, and dealing with any issues that may come up.

It's good for the planet
The average vehicle occupancy in Canada is 1.6 people per vehicle. On Poparide, the average vehicle occupancy is 2.8 people per vehicle. By helping people share cars, we reduce the number of cars on the road and our carbon emissions, thereby alleviating traffic and reducing our impact on the environment.
---
So, what can we do about Greyhound withdrawing from British Columbia?
We can come together and open our cars to one another.
We can stop driving with empty seats, and help people in our community simply by posting our trips.
We can pave the way for a better transportation system that is more social, affordable and sustainable for everyone.
Here's what you can do to help Poparide grow in your area:
Share this post Spread the word by sharing this post with your friends, family and colleagues:
Post your trips
Post your trips
on Poparide whenever you're travelling and have empty seats in your vehicle (it's 100% free for drivers).
Reach out to your local MLA
Let them know that Poparide is a viable solution in your region and you would like their support.
Find your MLA
and send them an email:
Dear MLA name,
In light of Greyhound withdrawing from our region, I would like to express my support for Poparide as a viable solution to intercity transportation for our community.
Poparide's service helps fill empty seats in cars already on the road, by matching drivers and passengers heading the same direction.
This service is already very popular in other parts of British Columbia and boasts over 80,000 members who have already shared over 5 million kilometres.
All it needs to thrive in our region is support from the community, and you, our MLA.
I invite you to read the recent article Poparide published on how they can help our intercity transport needs, and hope you will support them in their efforts to grow in our region.
Sincerely,
Your name
---
Got questions, feedback or simply want to leave us a message?
Use the comment box below.
Cover photo by San Pedro de Atacama from Unsplash