Celebrating 100,000 members
Last week the registration counter on Poparide saw its sixth digit for the first time. On August 16, 2018, it hit 100,000 – double the membership from May 2017.
To celebrate, we're throwing a party at our office in Vancouver on Thursday, September 6, 2018 and we'd love to have you there! You can find more details and RSVP on our Facebook page. Spoiler: there'll be a band, a keg and maybe even a food truck…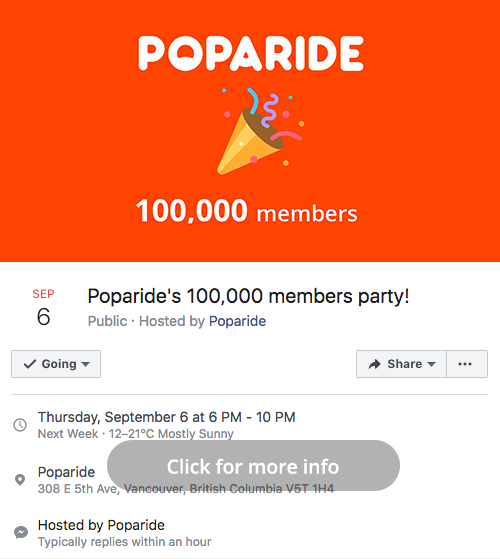 We're certainly very proud to have come this far, but we still have a lot of work to do. With Greyhound leaving Western Canada, we're working hard to increase our adoption and ensure people have a reliable means of regional transport in this part of the world.
Our long-term objective is to become part of the transportation fabric of Canada and to make Poparide as ubiquitous as getting on a bus, a plane or a train. We are committed to our mission of filling empty seats in cars and helping people travel together.
Why we do what we do. 100% authentic footage with Squamish.com True Calling Canada Modo OGO Car Share Co-op Simon Reggiani Eric Carpentier Francois Fontaine Flo Devellennes Bc Helicopters

Posted by Poparide on Tuesday, August 15, 2017
---
So, this is to you — our 100,000 members — and to the ones that will join in the future: thank you for trusting us, trusting each other, and trusting that together we can make travel more social, more accessible and more sustainable for everyone.
Cheers to 100,000, and to many more to come!
– The Poparide Team