Gas prices in Canada are soaring. Here are 5 ways to cope.
Driving in Canada has never been so expensive, but there are still ways to reduce your driving costs. Here are some helpful tips for saving money when you're on the road that can make a big difference to your wallet.
1. Fill empty seats in your car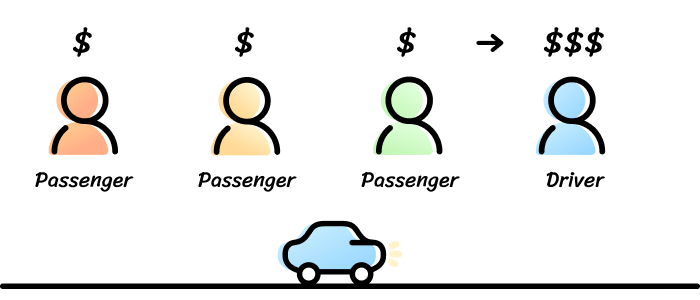 As increasing gas prices are making driving less affordable, people are turning to carpooling to help cover their driving costs.
The simplest way to carpool and fill empty seats in your car in Canada is Poparide. It's easy to use and connects you with passengers who are already looking for rides.
Simply download the free app on iPhone or Android and post your next trip. Passengers pay online in advance and once the trip is complete you'll receive money automatically in your bank account or PayPal. You can also review your experience and get reviews from your passengers which helps build your reputation and get more bookings.
Poparide is the fastest growing carpooling community in Canada with over 400,000 members and a strong track record for safety and reliability. If you're already driving from A to B, it just makes sense to post your trips and collect money to cover your costs.
---
2. Catch a ride with someone else
While gas remains expensive, one option for saving money is simply to not drive. That's easier said than done for most of us, but reducing the amount you drive within cities is now made possible thanks to reliable public transit, bikesharing and carsharing.
If you're planning on travelling longer distances and between cities, consider using a carpool app like Poparide and leaving the driving to someone else. Signing up for Poparide is free and it's easy to find a ride at an affordable price. Just enter your origin, destination and date you want to travel to see who is already driving the same way. There's no need to carry cash because payment is made online using a credit or debit card and the driver is paid after the trip is complete. All you have to do is show up on time at the pickup location and enjoy the drive.
Whether you're catching a ride with someone else or filling empty seats in your car, carpooling is a great way to lower your driving expenses, meet new people and reduce your impact on the environment.
---
3. Choose the right time to fill up

Even though the price of gas is higher than ever, prices vary considerably from day to day. So if you choose the right time and place to fill up your savings can really add up.
Choosing the right time to fill your gas tank is made easier with online tools like the CAA Gas Prices tool that shows trends in gas prices in your local area.
The GasBuddy app is helpful for locating the best gas prices and makes it easy to check prices wherever you may be throughout the day.
The app includes a gas price map which helps you quickly locate the best deal for gas in your area.
It also includes a trip cost calculator that helps you save on gas costs when you're making plans to travel; just enter your origin and destination and the details of your vehicle and GasBuddy calculates the cost of your trip.
The trip cost calculator also gives you a list of gas stations that will save you money along the way and details of how much you will save based on the make and model of your vehicle.
You can also make use of gas loyalty cards that offer discounts on gas every time you fill up.
---
4. Make small behavioural changes when driving
Modifying the way you drive is an easy way to reduce your driving costs and improve the fuel efficiency of your car. Driving habits matter, and when you adjust the way you drive the savings can add up.
Here are some helpful tips that can save you money:
Drive conservatively. Accelerating and decelerating smoothly can lower fuel consumption by 15 to 30% at highway speeds and 10 to 40% in stop-and-go traffic.
Slow down and observe speed limits. Fuel economy peaks at around 80 km/h on most cars and drops off as speeds increase. When you're on the highway, you consume 20% less fuel when you drive at 100 km/h instead of 120 km/h.
Leave enough distance between you and the vehicle in front of you. This also helps avoid unnecessary braking and acceleration.
When you're taking a break and sitting in your car, remember to turn off the engine instead of idling. Cars consume up to one to two litres per hour when idling, but restarting your engine only takes around 10 seconds worth of fuel when your engine is warm.1
Plan your trips and do your best to avoid rush hour. Combine errands and plan your travel to minimize excessive driving to lower your fuel consumption.
---
5. Make sure your car is well maintained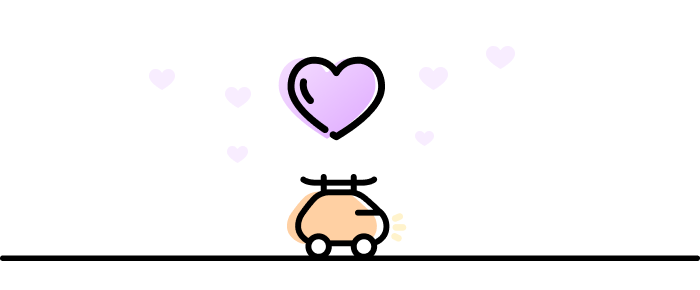 Poorly maintained cars can burn up to 25% more gas than cars that are regularly serviced, so it's important to have your car maintained at regular intervals, ideally once or twice a year.
Here are some tips to help save money on operating your car:
Check tires for proper inflation at least once a month. When your tires are underinflated, your fuel economy is reduced due to increased rolling resistance.
If you see the 'check engine' light come on, take your car to an auto repair shop as soon as possible. This light can indicate a fault that increases emissions and decreases fuel economy.
Regular gas is good enough for most cars. Many drivers pay extra for higher grades of gas, but in most cases it's unnecessary. Make sure you check your vehicle manual to be sure if you're considering switching to regular gas.
Use the air conditioner as little as possible when you're in the city, as it can increase fuel consumption by up to 20%.2 When you're on the highway, it's better to use air conditioning as opening your windows and sunroof can increase fuel consumption.
Avoid the use of rooftop luggage carriers whenever possible as these increase aerodynamic drag and reduce fuel economy.
1 American Automobile Association, How to maximize fuel economy
2 Canadian Automobile Association, Save money on gas
---
Interested in Poparide?
Join as a driver or a passenger, it's free!
---
FAQ
Why are gas prices so high in Canada?
Canada and other countries across the globe are facing high demand for oil and gas at a time when supply is decreased on the world market due to global events, which means higher prices. Russia's invasion of Ukraine has made it increasingly difficult for Russia to sell its petroleum abroad which is lowering the global supply. Meanwhile, the world economy is reawakening after two years of the pandemic and is consuming more oil, yet oil production is still lagging after production cuts during the pandemic.
Why are gas prices so high in Ontario?
Ontario has been breaking records for gas prices since mid-January 2022. As pandemic restrictions are lifted in Ontario, demand for gas is now returning to pre-pandemic levels yet supply is limited. The war between Russia and Ukraine has reduced an already limited oil supply, as oil-producing states have been slow to increase production as they recoup losses from years of low prices. The result is high gas prices in Ontario as well as other provinces and countries around the globe.
Will gas prices go down?
Experts say gas prices will remain elevated for months and inflation will likely get worse before improving as the effects of the Russia-Ukraine war continue to elevate prices. As the world economy is opening up after a two year pandemic slowdown, demand for gas is increasing, placing further upward pressure on gas prices while oil production is still catching up.
When will gas prices go down?
Many experts think inflation could start easing later in 2022 but is likely to remain high, while some say we may eventually see a decrease in gas prices if oil prices remain below $100. GasBuddy predicts gas price averages to remain high as long as there is conflict between Russia and Ukraine, citing the possibility for price increases as the situation remains fluid.
How much is gas in Canada?
The price of gas in Canada is determined by different factors, including supply and demand, crude oil prices, refining costs, taxes, and local market conditions. The CAA's Gas Prices web page provides the average price of gas in Canadian provinces and cities. GasBuddy's Fuel Insights tool displays the national average for gas prices in Canada as well as prices by province and city.
How much is gas in Toronto?
The price of gas across the Greater Toronto Area (GTA) is relatively consistent between communities at any given time. Gas prices in Toronto are available on the CAA's Gas Prices web page and on GasBuddy's Fuel Insights tool, including average prices by day, week, month and year.
---
Got a question, feedback, or suggestion on this article? We'd love to hear it! Leave a comment below.