Member Champion (Support Team)
Starting at 20-25 hours/week, contractor position.
We are currently only accepting applications from residents of Mexico.
Poparide is a socially-minded Canadian company designed to fill a need: affordable city-to-city travel for everyone.
Our vision is to live in a world where we all share resources to better preserve our planet. Our mission is to fill empty seats in cars and help people travel together. Therefore, we connect our members who are driving with passengers heading in the same direction. By sharing trips, we create a new type of travel that is more social, affordable and sustainable. At Poparide, we consider our community and our members' experience to be essential to our success. Our membership is growing quickly across Canada, and our priority is to create the safest and most seamless experience for our passengers and drivers.
Our Support Team helps ensure successful trips for our members from both a human and technical standpoint.
As a 100% remote Member Champion at Poparide, you're able to provide a human and instructive support experience through empathy, creativity and technical problem-solving. You also have thorough product knowledge and can communicate across teams within Poparide to assist in process and product improvements.
We are looking for:
The knowledge that creating a great customer experience is paramount to the success of our community and company.
Exemplary written English skills, French skills are a bonus
Empathy and patience with strengths in conflict resolution and mediation.
Fairness, diplomacy and tact.
Technical aptitude: you may not be a coding genius, but you're not afraid of technology and love to learn. We use a lot of different software on a daily basis.
A love for problem-solving and a deep understanding of how to troubleshoot issues.
Cross-functional communication skills with clear identification of problems and the ability to come up with solutions.
Ability to work well in ambiguous situations and confident in making decisions in a gray area.
Desire to contribute to the learning and success of your team through mentorship, collaboration and building documentation
Someone who is not afraid of failure, you are accountable for your mistakes and can learn from them and move on.
Someone who isn't afraid to ask for help when something is over your head.
You also:
Are self-motivated and proactive – while we work as a team, your unique perspective, observations and feedback are valuable. If you see a problem or an opportunity, share it and offer up ideas to enact change.
Have a drive to learn and work independently.
Are highly adaptive and can handle change with grace.
Are collaborative and work effectively within a group setting, demonstrating consistent teamwork.
Thrive on creating improvements and building efficiency around you.
Understand the importance of work/life balance.
What you will do:
Resolve written member enquiries using support software in an accurate, considerate and timely way.
Triage incoming enquiries and spot trends in member issues to flag for the wider team.
Empathize with every aspect of the member experience; you are their champion and their voice.
Learn our product and its functionalities inside and out.
Have a deep understanding of our policies and guidelines and apply them to the best of your ability.
Care deeply about supporting our members and understand the crucial role it plays in making this a great company.
Work towards team goals using metrics and data to measure the quality of members' Support experience.
Wage and Perks:
Starting at 20hrs/week leading up to full time, with 2 consecutive rest days
Flexible working hours – you get to choose when to start your shift within our business hours.
135 MXN/hour
Fully remote
20 paid holidays per year
Job offer comes with competitive perks
Working at Poparide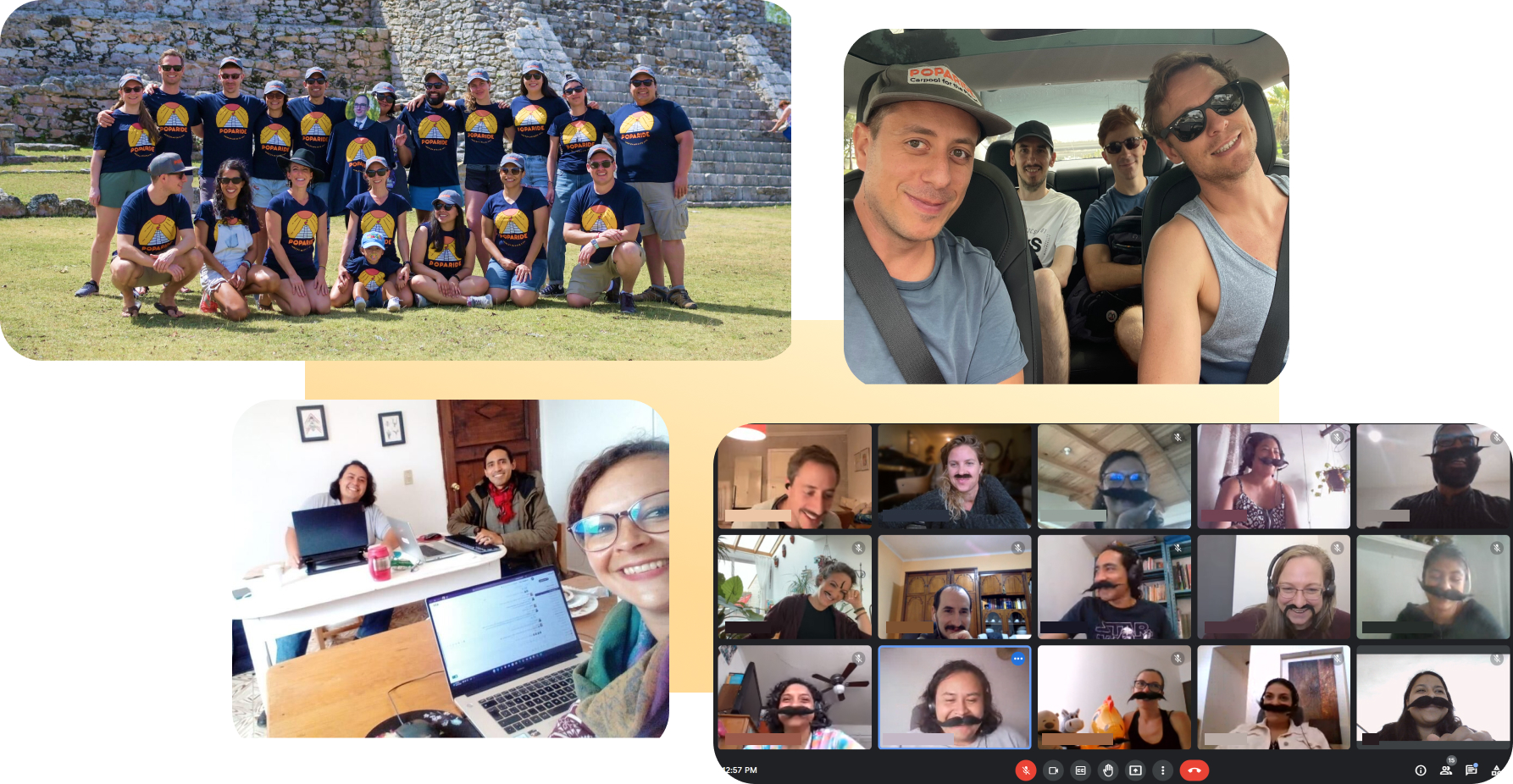 Come be a part of a company where you can do meaningful work and have a voice. You will have direct lines of access and influence across the company. We have a positive, and supportive culture where we assume best intentions—we look for people who are curious, inventive, and work to be a little better every single day. In our work together we aim to be smart, humble, hardworking and, above all, collaborative. We go the extra mile to help our colleagues and are honest, transparent and kind with the people around us. We also take care of the environment around us and like to have a fun work environment! We understand the idea that people have lives outside of work, so we love to increase productivity during work hours so that we can head out of the office with a free mind. 
Apply now